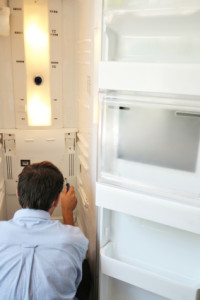 If you had to pick the most important appliance in your whole household, chances are it would be your refrigerator. Not only does this hard-working machine operate around the clock, but you also depend on it 24/7 to keep your perishables safe and your drinks cold. At the first sign of trouble with your residential refrigerator, get on the phone and call in the pros from Superior Appliance Services. We specialize in home refrigerator repairs for all brands, and we have more than two decades of experience in the field to help you minimize your losses. So spare yourself the expense of hundreds of dollars worth of spoiled food, not to mention the cost of a brand-new major appliance. To ensure swift and skillful refrigerators repair, contact our team today!
Refrigerators are no longer the basic ice boxes of the past. With all of the technological advancements and added bells and whistles these days, refrigerator repair has become more involved than ever before. For the most accurate results, it's best to turn to an experienced professional who is well versed in diagnosing refrigerator repair problems and has access to top-quality replacement parts. Superior Appliance Services has your refrigerator repair needs covered. We're factory authorized to work on brands from Asko to Viking, and we offer manufacturer's warranties on all of your refrigerator repair parts. So don't leave your fridge repairs in the hands of amateurs. Our expert refrigerator repair technicians are only a phone call away.
At Superior Appliance Services, we approach each and every refrigerator repair with our trademark focus on precision craftsmanship and prompt attention, and we always work with complete respect for you and home. That way, you don't have to worry about collateral damage to your appliance or surrounding property as a result of our refrigerator repairs. In fact, in many cases, our highly trained technicians are able to prevent a relatively minor issue from getting worse when it's caught in the early stages. So put away that refrigerator repair manual and contact us today by phone. If you're in need of refrigerator repair service, time is of the essence.
Since 2009, Superior Appliance Services has been a go-to source for refrigerator repair in homes throughout Mt. Pleasant and the entire Westchester County vicinity. Some common refrigeration repair problems that we're able to solve include:
Water leaks
Defective cooling
Faulty lighting
Clogged drains
Excessive frost buildup
Unusual noises
And more!
In addition to providing refrigerator repair service for your central unit, Superior Appliance Services is fully qualified to perform work on the other features of your kitchen workhorse, including refrigerator freezer repairs and refrigerator ice maker repairs. You can also depend on our refrigeration repair specialists to troubleshoot and address any problems with wine coolers and stand-alone freezers. With our wide-ranging knowledge and hands-on experience, it doesn't matter if you need GE refrigerator repair or Sub-Zero refrigerator repair. We can take care of your model, from Traulsen to Viking, from top-freezer setups to French door units. Superior Appliance Services is up to the task of your refrigerator repair, regardless of brand, scope, or severity.
So don't give up on the hardest working machine in your house at the first indication of trouble. Contact Superior Appliance Services instead, and see if you can save a bundle over the cost of a replacement unit. Our refrigerator repair professionals are as qualified as they come, and we're firmly committed to providing long-lasting solutions that are truly cost-effective. We even offer emergency service for your most urgent refrigerators repair in and around Westchester County.
To schedule your appointment for refrigerator repair, reach us by phone now!